Chris Bobbitt
Board President
Chris joined the board in 2010.  She has 27 years' experience working in probation in San Bernandino and Merced Counties.  She approved and monitored the 52 week Batterer's Treatment Programs in San Bernandino County and became passionate about domestic violence and other victim safety issues.  Chris lives in Merced and works as a Program Manager at the Merced County Human Services Agency.  She is commited to public service and is active in her community.
Kathy Delaney

Vice President
Kathy is a retired Prevention Sprecialist and Mariposa Safe Families Executive Director.  As a stakeholder in the early development of Intimate Partner Violence services for Mariposa County, she was inspired by founder, Candy O'Donel-Browne.  She joined the board of directors to support the work of MCS and encourage community prevention efforts. 
Candy O'Donel-Browne
Secretary
was involved in the domestic violence movement of the 1970's, and has been active in various organizations ever since. She served on the original board of the Jersey Battered Women's Service in Morris County, New Jersey, and was on the first executive committee of the New Jersey Coalition for Battered Women. After moving west, she was a founding member of Mountain Crisis Services in Mariposa, California, and a strong advocate for establishing the Valley Crisis Center in Merced, California. She and her family owned the Yosemite Mariposa KOA Campground and RV Park in Midpines, California for over a decade. After it was sold, she became the Executive Director of the Mariposa County Economic Development Corporation. She is now retired. She is an experienced volunteer board member, having been involved for 37 years in many civic organizations ranging from healthcare, economic development and the arts to public transportation. She has always been deeply concerned about the welfare of victims of interpersonal hostilities, and has been active in developing services that improve their lives.
Wayne resides in Merced and is a retired attorney.  From 1989-2008, he was the Public Defender of Merced County.  He has had a lengthy committment to issues of domestic violence and sexual assault and served on the Board of Directors of Friends of Battered Women of Merced (1984-1989) and A Woman's Place of Merced County (1989-1996).  He is serving his second year as the President of the Alliance.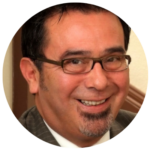 Manuel Alvarado
a native Californian, was born and raised in Sanger, California. He earned a B.A. from California State University, Fresno.  He helped open the Good Company Music Hall and performed in dozens of productions there. After twenty years in the hospitality and advertising industries [including the California Dancing Raisins campaign] he returned to his roots in the Central Valley. Manuel is currently the Community Relations Manager for the Sierra Health Foundation's Center for Health Program Management in the San Joaquin Valley. He also serves as President of the GLEE Foundation of California that serves the LGBT community access to higher educational opportunities. He most recently served as Director of Leadership Programs for UC Merced/Great Valley Center where he managed core-programs for this diverse regional nonprofit organization. Responsibilities include research, communications, budget and personnel management, outreach strategy development, program design – development and recruitment, publication coordination, and fundraising. Previously he was Director of Economic Development & Tourism for the City of Reedley where he oversaw the Historic Reedley Opera House. He works closely with the production company that performs professional theatre while on their Board of Directors. He also served as Vice President of the Central Valley Tourism Association. Manuel has organized and is a Past-President of a nonprofit organization, the Kings River Arts Council with a gallery showcasing the work of local artists in Reedley. Manuel has serves several community-based non-profit boards such as; California School-Based Health Centers, GLEE Foundation, CVTA, Merced Main Street Association & The Kings River Arts Council. Manuel lives in Modesto with his two Labradoodles, Harpo & Chico! Specialties: Public Relations, Program Management. Leadership Skills Sets, Non-Profit Management, Arts and Culture, LGBTQ Advocacy, Tourism/Hospitality & Economic Development.
Lisa Rhudy
Lisa is a retired Public Health Nurse with the Mariposa County Health Department, have lived for forty years in the community of El Portal at the entrance to Yosemite National Park, and have been privileged to serve on the board for the Alliance For Community Transformations for more than fifteen years. The agency's capacity for effecting positive change in Mariposa and Merced Counties continues to astound her. Besides spending time in volunteer activities, Lisa enjoys hiking and backpacking in the park, playing music, writing fiction, and traveling to foreign countries.
Father Stephen C. Bulfur
Father Stephen was ordained a priest in 1973. He served in Porterville, Bakersfield, CSU Fresno St. Paul Newman Center, former Pastor of St. Patrick's, Merced; St. Mary's, Fresno. He is currently Pastor of St. Joseph's Catholic Church, Mariposa since 1994. His hobbies are motorcycle riding, kayaking, sailing, and X-C skiing. His favorite food is popcorn. His best place on vacation is Sir Francis Drake Straight, U.S. and British Virgin Islands. Father Bulfur is from Fresno, California and he has 59 first cousins on his father's side alone!
Carmensol rehbein
Carmensol was born and raised in Chile and moved to Merced about 8 years ago to be close to children and grandchildren. She speaks Spanish and has donned several hats from stay-home mom, immigrant, to realtor, and now she is a small business owner together with her husband. She loves to travel, read thick books, and enjoy family life, specially seeing the little ones grow up. Community service is a part of her life so she has volunteered at the high school, her own children's schools here and there, church, and sat on the Planada Community Activities Coalition board.
Norbela Luis
Norbela resides in Merced and is employed as a Staff Personnel Analyst with Merced County Human Services Agency.  She is an active member of the Central California Chapter (CCC) of the International Public Management Association-Human Resources (IPMA-HR) organization. She has been a CCC IPMA-HR board member since 2010 and was elected to serve as the Chapter Treasurer in 2016.  She is committed to public service and has joined as a member of the Board of Directors for the Alliance for Community Transformations to support our communities' domestic violence prevention and awareness efforts.
Lori Newman
Lori is a native of Merced County, first growing up in the sleepy town of Dos Palos.  She currently resides in Atwater with her husband of 27 years.  Lori has 24 years' experience in the Substance Use Disorder Treatment field and specializes in Trauma Informed Services for women and women with children ages 0-12 years old.  Lori has a long history as the Executive Director of a local non-profit 501 (c)(3).  Lori's passion for helping others shows in her various state-wide and local commitments to organizations.